Providing your business with peace of mind.
Falcon Systems can customize IT solutions, services, and communication tools to keep your organization running smoothly. We also offer monitoring and technical support, alerts and notifications, and scalable services to help grow your business.
Falcon manages software backups, updates and troubleshooting for all major accounting software packages, including QuickBooks, Sage, ProFile and more.
We provide Canadian-based hosting for all financial backups and are C-SOX, SOC, ISO, and PIPA compliant with seven-year retention.
We are well-versed in supporting the following critical applications: AccuMap, P2 Energy Solutions, AccuLogs, CADWorx, BricsCAD, Autodesk, and LandMan.
We have extensive experience with LoneWolf, brokerWOLF, Deal Manager, and can provide solutions that are accessible from anywhere with an internet connection.
We are highly experienced with Industrial solutions / large datasets, MATLAB, Industrial Computing (IPCs, PLCs, Field site ops + monitoring, custom industrial solutions), Schlumberger software, and Rockwell Automation.
We are also involved with aligning typical IT solutions with complicated industrial implementations.
Familiarity with grants, intricacies and cost-savings of non-profit organizational software like Techsoup and Microsoft 365 for Nonprofits.
Extensive experience with EMR software including Accuro and Telus Wolf

Assist and complement EMR's [Electronic Medical Records] to maintain local security

360-degree network view. 24/7 remote monitoring agents

House valuable patient data within Microsoft 365 OneDrive or Sharepoint Cloud storage in Canadian-based data centres

Bank-grade security and protection, including data and email encryption. 24/7 security and data access

Competitive flat-rate pricing to fit all budgets. No long-term contracts to sign
Fully managed dental practice software and imaging solutions, Dentrix, Power Practice, Open Dental, Patterson, DEXIS, and CADI

Complete Data Security of sensitive patient information

Full maintenance of all patient records on Microsoft Office 365, Azure OneDrive or Sharepoint cloud storage using Canadian data centres

Bank-grade security and protection, including data and email encryption. 24/7 security and data access

360-degree network view. 24/7 remote monitoring agents

Competitive flat-rate pricing to suit all budgets. No long-term contracts to sign
Dr. Craig Young Discusses His Falcon Experience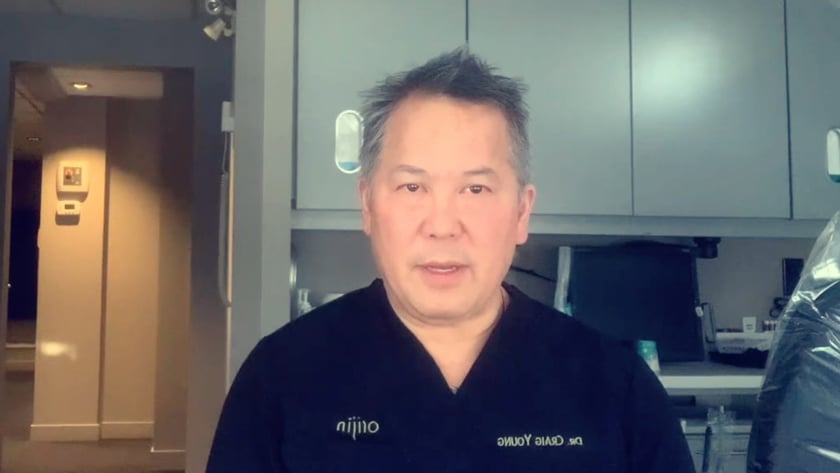 If you're looking to make the switch from your current IT provider, contact us today for a seamless transition.
Let us show you custom and turnkey solutions that work for your business.
Our two O&G companies have been working with Falcon Systems for more than ten years and have had consistent, timely, and professional-grade support for all of our IT requirements. Falcon has also provided and maintained closely integrated infrastructure links from our western Canadian field and European operations. The Falcon team has always brought us time and field-tested solutions to our problems. As a growing company, we need things to work right the first time - which Falcon has seamlessly provided to us for more than a decade.
Brian Kay, VP of Production
General Energy Recovery Inc.
When I joined Simon House in December of 2015, we needed significant improvements in reliable and stable computer and IT support. As a registered charity, funds are always a challenge. I knew I needed an ethical and socially responsible company to support Simon House with computer upgrading and ongoing support. I had previously retained Cedric and his team at Falcon earlier in my career and knew I could count on him. Falcon maintains our data in a 100 % Canadian Cloud-hosted service where confidentiality of our records is maintained. The support provided is excellent, and the monthly base service fee is very reasonable.
Lauren Rouse, Business Manager
Simon House
Falcon Systems has been providing IT management and support services to CMC Research Institutes (CMC) since 2015. CMC is a small, not-for-profit entity working in clean tech and greenhouse gas emission reductions technologies, including a remote field facility in southern Alberta that is online 24/7. We have been extremely impressed with the high level of expertise, skill and knowledge of Falcon staff, and we are very satisfied with the services they provide. They have met every IT challenge and have provided enhanced security and privacy for our staff, software, documents and data. Falcon Systems has a very friendly team, and they are always willing to offer advice and improve our functionality. I highly recommend them for any company seeking dedicated IT expertise and support.
Don Lawton, Ph.D., P. Geoph., Director Containment and Monitoring Institute
CMC Research Institutes Inc.